Writing a travel blog is fun because you remember many moments from your travels and you feel excited to share your experiences with others. However, it isn't always easy to find good travel blog ideas.
There's this belief that you always need to share positive experiences, however, you can also write about the downside of travelling. This will help others avoid the mistakes you made or be careful with certain locations.
At the same time, you don't need to be a digital nomad or a full-time traveller to be a travel blogger. You may think that you won't be able to write enough because you don't travel that often. However, you don't need many holidays to write about travelling.
I travelled to four destinations abroad last year, and I was able to keep up with my blog posts. But, let me tell you that you don't even have to leave your country to have a travel blog. Wait, is this true?
You can focus on writing about different places around your city and country. Believe me, you haven't explored your area as much as other countries. I was the same! I used to undervalue my hometown and I wasn't aware of all the amazing places and hidden gems nearby. 
We tend to think other places are amazing, which they truly are, but we need to be grateful for our hometown and all the unique things you can do there.
You may also think, right, I've written about my hometown, so that's a blog post. What's next? Well, you can create more than one blog per destination, you just need to present things in a different way or perspective. 
For example, I wrote two different blog posts about my hometown.
How to Visit Costa del Sol like a Local

The Perfect 1 Week Costa del Sol Itinerary
To be honest, I could still write many more blogs only about Costa del Sol (what to pack when you visit Costa del Sol, where to eat, instagrammable spots, etc.), so you can do the same with your hometown.
Writing a travel blog isn't as difficult as you think, you only need to start. I know that it will take time to get to write, but the more you write the faster you will be. 
In this blog post, I'm going to dive into the process of travel writing.
P.S. This post contains affiliate links. If you click through and purchase something, I receive a small commission of the price at no extra cost to you. This helps me to keep the content up to date and make other improvements in the blog.
The first thing you can do is to brainstorm! Brainstorming is often undervalued and forgotten, but you can get so many ideas from it. 
Simply get a pen and a notebook or piece of paper, then make sure you're in a quiet place and you're ready to start thinking about the pillar content that you want to talk about in your blog. For example, this could be:
Travel Guides

Travel Tips

Packing Lists

Restaurant and Hotel Reviews
Once you've identified the main pillars of your blog, then start thinking about possible blog titles. To make this easier, let's say you're thinking about writing a travel blog for your travel guide section. Something that can really help you before you write any titles, is to make a list of places you've visited.
Also, if you're a visual person or you're struggling to remember all the places you've been, you can simply go through your travel pictures folders in your laptop or phone.
This will help you come up with titles like: "Two days itinerary to Porto" or "5 Reasons to Visit New York City in Spring", etc. At the same time, remember that there are many guides about NYC, Paris, etc., try to come up with an attractive title.
For example: "10 Things I wish I knew before visiting Dubai" or "Reasons why I would never go back to Japan". 
When you see these titles, you automatically want to know what things you should know before visiting Dubai and why this person is telling me not to go to Japan. 
Brainstorming is a powerful technique, but I understand that brainstorming may not be for you or you still struggle to come up with ideas. So, here is a list of resources and apps that can help you with the inspiration process.
Pinterest is the app to go to find inspiration and new trends. People on Pinterest are constantly looking for ideas, so it's a great tool for content creators too.
To find ideas, go to the search box and type whatever you want to look for that is related to your content. For this example, let's continue with travel.
Enter > European destinations
You'll see in colour all the keywords that people are looking for. These keywords give you ideas to create new blog posts that you know can do well because people are interested in those topics.
Google Trends is free and simple to use. It's a great tool to use if you struggle to come up with blog posts that your audience is interested in.
The tool shows you what your audience is looking for and how they look for these terms in the Google search box. So this is ideal for SEO (Search Engine Optimization), but I think I should leave SEO for another blog post. 
You can search for trends by country, topic and duration. I always recommend entering 12 months time because it will be more relevant than a short or a longer period of time.
You can look at different ideas by going to the search box and clicking on different topics. Also, you can look for trends in the hashtags section.
Alternatively, if you have a strong audience, why don't you ask them what they would like to see next in your blog?
You can do this by creating polls, quizzes or questions. I think that polls or quizzes get more answers than questions plus you're less likely to receive bot answers. Also, by using polls or quizzes you're making things easier for your audience because they don't need to spend the time writing. 
However, feel free to try them all and see what it works for you and your audience! 
Start writing a travel blog post
I normally like to write the main points and ideas I want to cover in my blog post, so it's easier to start writing. At the same time, creating a note in your phone is a brilliant idea. I sometimes come up with ideas when I'm walking or doing another activity, so instead of trying to remember them, I write them on my phone.
Here is an example of my notes:
Berlin Travel Guide
Mention about that cool street you found by chance.

Recommend breakfast place with amazing breakfast bowls,

Cheapest month – January.
These are your personal notes, so don't worry how they are written as long as you understand what you mean to write them in your blog later, it's fine! 
When it comes to structuring, how many times have you heard that you need to follow a structure to write your blog? Too many. Well, you don't need to follow a chronological structure, say, you have spent 3 days in Barcelona, you don't need to write everything in the order that happened.
There isn't a good or a bad answer, you can start writing how you ended up in a destination and then explain how everything started. This will also depend on the content that you're planning to write.
Writing an itinerary isn't the same as writing your travel tips for a certain destination.
Before you publish your blog post, make sure you read it to spot any spelling mistakes or blank gaps, etc. I'd recommend reading your blog post a day or two after you've written it because you'll read it with a different mindset and you'll pay more attention to what you're reading.
At the same time, you'll add, modify or even delete some parts of it and this is completely normal! This is what a good blogger does.
Another thing that I'd highly recommend is showing your blog to your mum, friend or partner. They don't need to be writers, editors, or anything like that to give you some feedback. They can tell you simple things such as "I can't really understand what you mean", "maybe you could describe this place a bit more so people can have a visual picture of it", etc.
This will give you the opportunity to make your blog clear and better!
Improve your writing skills
It doesn't matter how many years you've been doing something, there's always room for improvement. As a writer, blogger, photographer, etc. you need to be updated with how things are going in your industry.
At the same time, if you're completely new, there are some basic activities that you can already do to improve your writing. Here are some of them:
Read blogs, books and magazines
.
Reading helps you improve your writing skills and there is no excuse to not do it. When you read, you absorb all the language and writing style, and this is why it is so important you choose high-quality books and magazines in your field. You'll be surprised how you start writing better by using good new words, being more descriptive in your travel stories, etc.
One of my favourite books is How to Be a Travel Writer by Lonely Planet. It's a great book because it teaches you many things like finding your story and voice, why you want to blog, writing for magazines and newspapers and much more.
Take online courses
.
There are many writing and blogging courses out there, but if you want a course based on travel, Superstar Blogging by Nomadic Matt is my favourite. 
Superstar blogging teaches you all the basic information you need to run a travel blog. The course covers eight main topics (from writing content to partnering with brands and tourism boards). In addition to this, you have access to weekly Q&As and a community full of bloggers like you.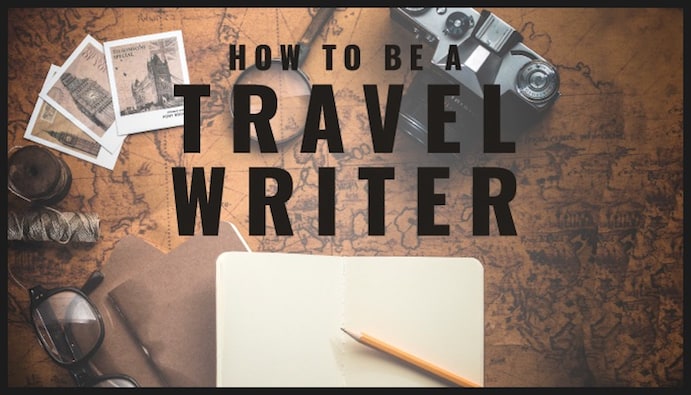 Proofread other people's piece of writing
. 
By doing this, you'll learn how to spot mistakes and how to rewrite sentences in a different way. As a travel blogger, this is a great skill to have too.
Additional tip: if English isn't your first language, like me, and you worry about your English, you can download Grammarly app to your mobile or laptop. 
Grammarly is very useful and simple to use. It checks for spelling, grammar and punctuation errors. It has become even better since they tell you the tone of your writing! It's one of the apps I can't stop using as a travel blogger.
Remember that you don't need to have English as the first language to have a successful blog. You can always improve it and you'll become better by writing more and more.
Be patient and keep going
Many people get into blogging because they love travelling and writing like you, and it's normal that you want your passion to be monetized. However, being a successful travel blogger requires consistency and patience.
Blogging isn't a quick money business, however, you can definitely monetize it in the long run with the help of ads, affiliate programmes, etc.
Also, having a travel blog isn't only about writing a travel blog, but there are other tasks that are equally important as writing. For example, promotion!
You can write the best travel blog ever and no one reads it because you haven't spent the time to promote it. This is why you need to use social media like Instagram and Facebook and other platforms like Pinterest.
Pinterest is actually one of my main sources that my blog receives traffic from, so if you want to learn more about driving traffic to your blog with Pinterest, check this post.
I hope you've learnt something from this blog post and please reach me out if you have any questions about travel blogging, the resources I've mentioned in this blog or Pinterest. I'm always happy to help.
Love,
Cristina xx
P.S. Like this post? Share it and make sure to save it for later